You may order UR-REALIST merchandise at multicards.com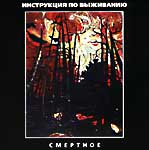 Instrukciya Pi Vyzhivaniyu: Smertnoe
URCD 007
The price of 1 CD is $12.99;
there may be a discount if you buy more than one
For sales information, write to Dima Kaledin (kaledin@mccme.ru),
phone # (7095) 110 35 78.
Instrukciya po Vyzhivaniyu (Survival Instructions) is one of those unique bands who break the ground later claimed by the entire generation. IPV were initially a punk anarchist outfit, but soon transformed to a punk Russian Orthodox and virulently nationalist band; at the same time, the music, not losing the punk urgency, become more and more dark and distorted. The album "Smertnoe" ("the deathsome") highlights this transition with the fast, guitar-driven arrangements, and the darkest and most suicide-driven lyrics in the whole history of rock.

UR-Realist