``back in the fields of rape''
Rrrr... Gav! Gav!
Poehziya po prirode mifologichna. No izo vsekh mifologem naibolee podkhodit poehzii odna -- mif o puteshestvennike. Chelovek rozhdaetsya, zhivet, umiraet -- ``mne vremya tlet', tebe cvesti''. Ehto mif.

Metafizicheskie puteshestviya, puteshestviya vo vremeni i prostranstve -- vot ono, izumrudnoe yadro mifopoehzii. Poehziya mifa. Mif o poehzii. Stikhi mifologivhny, no poehziya est' mif -- poluzabytye rodovye vospominaniya, davno bezrazlichnye merkantil'nomu kosmosu lyudei. Nerazlichimost' mifa, v tumane navedennoj pamyati i breda. Puteshestvennik, zabyvshiy svoyo naznachenie i bescel'no bluzhdayushchij po murav'inym tropam. Civilizaciya postroila iyul'...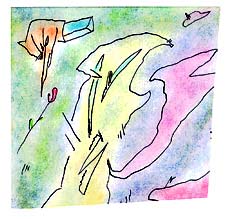 There is no place else to go
The theater is closed
There is no place els to go
The theater is closed
Cut word lines
Cut music lines
Smash the control images
Smash the control machine.
-- W. S. Burroughs,
Quick Fix

---

Misha Verbitsky.