Seven Dead Men.
23.3.88
2A.M. - 4A.M.

Contents
The Celtic Lyric

By J.C.Squire

Seven dead men, Brigit
Came from the sea
(Mist on the waters
And sorrow on the tree)


Seven pallid men, Brigit
Cold from the sea.
And each with his strange eyes
Whispered to me.


O, sad voyagers,
Whither are ye faring?
Do ye bring a tale of grief
For desolate Eirinn?


Oisinn and Dubb we be
And Cucutullitore
And Fish and Fash and Fingal
They spoke nevermore.


But each wore a wrap, a wrap
And each wore a weft
Of lost stars and sun forlorn
And moons bereft.

Vstuplenie.
A.
Semero, semero, semero dnej
Dnyami smenyalis' li --- serdce, molchi
Dnyami smenyali li belyx konej
Dnyami smenyali li krashenyj czit?


Dni kak umertvie. Strashen rasskaz
Strashnym putem proxodili oni
Strashnym putem proxodila toska
I natykalas' na novye dni.


Semero, semero, semero dnej
Dni ne smenyalis' li --- serdce, molchi ---
Ehto li tajna zakatnyx tenej ---
Ehto li k tajne zavetnoj klyuchi?

B.
Semero mertvyx iz karmy sozdam
Semero tajnyx iz morya prishli
Semero mertvyx, s sud'ej popolam
Karmu svoyu na plechax prinesli.

Semero mertvyx, i smertnyj tuman
Semero mertvyx, i v serdce odno ---
Plamenem tyazhkim gudit okean,
Kak na zakate gudelo vino.

---
1.
Zvali menya Gram de la Grotting,
Gram de la Grottingom zvali menya.
Mne na zakate grozili mechom
I na zakate kaznili menya.


I otvechayu ya: k smerti gotov.
No pochemu --- voproshayut menya
Mne govoryat, otvechaya na zov
Trizhdy kopytami teni konya?




---
2.
Grajsom ya zvalsya, kogda na zemle
Zhil, upodoblennyj pene morskoj
I posle smerti ostalsya v zole,
Ne opechalennyj slavoj mirskoj.


No pochemu, voproshayut menya,
Ty ne gotov v ehti groznye dni
I ne vozzval k nam, trubya i stenya,
V chas, kogda gorod lomali oni?

---
3.
Veter ustalo smeril rasten'ya
Teni umchalis' i nachalsya den'.
Ya rasskazhu o Lui Lambertene
Esli vam, milye, slushat' ne len'.


Byl on otvazhen, no serdcem ne v meru
Byl on razborchiv, kak istyj geroj
I na proczan'e maxnuvshi parteru,
Sginul nevedomo tajnoj poroj.


Esli zhe pesne vnimat' nadoelo,
Esli doroga ostalas' skuchna ---
Bejte v ladoshi i xlopajte smelo,
Chtoby v teni pritailas' ona!

---
4.
Prost ne v meru istyj genij
Grusten slavnyj Ehmpedokl ---
Neob`yavlennyx rastenij
Sobiratel' i korol'.


Stoit li vstrechat' somnen'e
Ili veru provozhat',
Esli sobstvennyx muchenij
My ne v silax rasskazat'?


I negozhe zvat' svin'eyu
Ehpikurovy stada ---
Ved' s Kastal'skoyu goroyu
Ne proczaetsya voda!

---
5.
Blizko k otvetu. Dovol'no stradan'ya
Tol'ko li gore ostavleno v snax?
Stol'ko li tenej na vlazhnom tumane,
Skol'ko otvetov na vlazhnyx gubax?


Blizko k otvetu. Doroga dorogoj
Pesnya inaya o gibeli dnej
Pesne inoj, o tumane i Boge
Mesto li zdes', pod ehgidoj kamnej?


Svetlye teni na vlazhnom tumane
Pesni inye o snax govoryat
Pesni inye ostavleny snami,
Sny o pokoe, o pesnyax trubyat.


Svetlye pesni ob Ehlrose slavy
Svetlye peni dvulogoj poroj ---
Smeshany teni s dvulogoj otravoj
Smeshany peni s dvulistoj igroj.


Vot i otvet, chto prixodit na slavu,
Vot i otvet: --- chto pechal'nyj geroj
Zrya ili v yunosti vypil otravy ---
Pesnyu pechal'nuyu pozdnej poroj?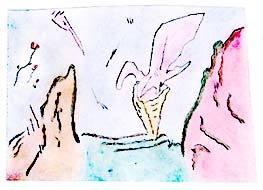 6.
Fisher ya, Fisher, rybak i rybak
Pesni zapeli vy --- vot ehto kak?
Tak ne zabud'te o pesne moej
Da ne zabud'te o dole morej


Da ne ostav'te navek korabli
Da ne ostavit vas vechno zemlya ---
Ved' ne goditsya brosat' korabli
Kak ne goditsya brosat' korolya.


Kak ne goditsya ostavit' doma
Vechnoyu karmoj i vechnoj sud'boj ---
Pesni poslednie sushit zima
Kak skvoz' otdushiny pozdnej poroj.

---
7.
Ruchayus' lyubov'yu, chto net u nas very,
I netu lyubvi, krome toj, chto byla.
I vernye cepi, i mernye sfery,
I vera, chto prochno stoit, kak skala.


I vera, chto budit svoim oborotom,
Lyubov', chto cvetet v neprosvetnoj nochi
Chto seet i veet, chto zhnet i molotit,
Chto verit i lyubit, chto seet luchi.


Chto seet lyubov'yu, i kak dragocennost',
Mne strashno to svetloe vslux proiznest'
Ved' svetlye sfery rozhdayut bescennost'
Togo, chto drugie ne mogut unest'.


Ved' svetlye cepi kak rany, svyaczenny
I vera kak rana svyaczenna, kak ten'
Letit tvoe imya, i kruzhit, bescenno
I oblako taet s toboj, Luchien'.

---

Return to my home page.