"Kogda moj dom byl ob`yat pozharom lyubvi",
pro prigorody Madrida, iz pis'ma ot
Sat, 20 Nov 1999
...Sam Madrid ne osobenno interesnyj. U nego interesnye prigorody. Ikh dve shtuki -- Segoviya i Toledo. Toledo bylo vsegda stolicej Ispanii; potom v 16m veke stolicu perenesli v Madrid, a Toledo bolee-menee kak bylo, tak s tekh por i ostalos'. T.e. tam est' staryj gorod, na kholme, primerno kak v Talline, no v 10 raz bol'she. Tam est' dva ili tri standartnykh muzeya dlya turistov, vpolne skuchnykh; no pravil'no po nemu prosto khodit' i smotret', chto najdetsya. My tam nashli "muzej vizigotov" (ehto ottogo, chto ya ochen' lyublyu vizigotov, i kak tol'ko uvidel tablichku, potashchil sestru ego iskat'). Ot vizigotov, pravda, est' tol'ko rzhavye remennye pryazhki i prochie ukrasheniya, i eshche tri pergamentnye stranicy kakogo-to drevnego kodeksa na vizigotskom yazyke. Zato sam muzej --- cerkov' 13 veka (ehto ochen' mnogo). Tam na stenakh freski poluosypavshiesya, v osnovnom na temy d'yavolov, drakonov i strashnogo suda (kotoryj vyglyadit, kak mnogo skeletov, vylezayushchikh iz grobov). Freski tozhe 13 veka. Iz-za togo, chto oni takie starye, nikakoj perspektivy tam i blizko net, i vse ehto pokhozhe ne to na naskal'nuyu zhivopis', ne to na primitivnye kartiny (tipa Pirosmani). Odna iz fresok izobrazhaet, pochemu-to, trekhgolovogo drakona. Na drugoj izobrazhen idushchij muzhik, u kotorogo na levom pleche sidit takoj malen'kij khristosik. Muzhik idet vpravo, no golova u nego povernuta vlevo, k khristosiku, i on na nego smotrit s uzhasom i udivleniem. Ehto, kstati, kakoj-to standartnyj syuzhet -- ya potom mnogo takikh zhe videl v drugikh cerkvyakh. Tol'ko ne znayu, kakoj. To li begstvo v Egipet, to li svyatoj Khristofor.
Vokrug zhe ehtogo Toledo imeetsya stena -- prichem bez obmana: ne kuski otdel'nye, a celaya stena, metrov desyat' vysotoj. Odnim bokom on povernut k reke. V Ispanii voobshche rek malo, ehto chut' li ne edinstvennaya bol'shaya; ona nazyvaetsya Takho i techet do samogo Lissabona. Na samom dele ona tozhe ne ochen' bol'shaya, no techet po kan'onu glubinoj metrov sto -- ochen' vpechatlyayushche. V gorodskoj stene periodicheski vstrechaesh' vorota. I vot na tekh, chto vykhodyat k reke, pribita tablichka, na kotoroj napisano stikhotvorenie izvestnogo katolicheskogo mistika 17 veka po imeni San-Khuan-de-la-Krus, posvyashchennoe gorodu Toledo. (Mne sestra perevela, chto tam napisano -- esli by ne znat', to nikogda by ne dogadalsya: chto-to pro to, chto "kak khorosho, chto, kogda moj dom byl ob'yat pozharom lyubvi, ya smogla vyjti iz nego, pochti ne sgorev").
Segoviya ehto umen'shennoe izdanie Toledo, poehtomu sama po sebe ne vpechatlyaet. No tam v kachestve tourist attraction imeetsya rimskij akveduk. On dlinoj s kilometr po krajnej mere -- konca ne vidno; vysotoj, kak pyatiehtazhnyj dom. Sdelan iz kvadratnykh kuskov kamnya, metra dva kazhdyj. Oni lezhat drug na drug v vide arok, i poehtomu derzhatsya na odnom trenii, bezo vsyakogo cementa. Naverkh akveduka zalezt' nel'zya, no mozhno zaglyanut'. Okazyvaetsya, chto vsya ehta konstrukciya soderzhit vsego odin malen'kij zhelobok dlya vody, shirinoj ot sily santometrov v tridcat'. Okolo togo mesta, kuda mozhno zaglyanut', est' mnogo grafitti tipa "ya zdes' byl" (estestvenno) -- no smeshno, chto nekotorye iz nikh napisany kitajskimi ieroglifami. Takoe ya videl v pervyj raz.
V srednie veka akvedukom pol'zovalis', a kto i kak ego postroil, razumeetsya, zabyli. Standartnaya legenda byla, chto ego postroil chert.
...Poka ya byl v Madride, ona (sestra --- Yu.F.) mne rasskazyvala raznye istorii iz ispanskoj zhizni. Samaya zabavnaya byla takaya (ya Mishke pro ehto pisal, no. mozhet byt', ty ne znaesh'):
Fil'm "Doktor Zhivago" snimali v Ispanii, potomu chto ehto bylo togda (60e gody) ochen' deshevo. Vse standartnye zasnezhennye pejzazhi sdelany s pomoshch'yu soli, i t.d. V fil'me est' odin kadr, kogda mnogo lyudej idut po snegu i khorom poyut Internacional. Kogda ehto snimali, to mestnye krest'yane uslyshali penie, i reshili, chto _umer Franko_ -- ochen' obradovalis', i stali podpevat'. Potom, kogda s'emki zakonchilis', priekhala grazhdanskaya gvardiya, i vsekh, kto podpeval, povyazala.
Uzhasnyj Ded Moroz,
iz pis'ma pro Kel'n, ot
Sun, 12 Dec 1999
...Vot teper' vernulsya, mozhno rasskazat' pro Kel'n. Mne tam ochen' ponravilos', voobshche-to. Pri ehtom s samogo nachala na menya napal kakoj-to sovershenno neprivychnyj idiotizm. Nachalos' s togo, chto ya opozdal na poezd (Gronasu proklyatumu pisal) -- v rezul'tate tshchatel'no sehkonomlennye 400 frankov (special'no bilet pokupal zaranee, po deshevoj cene) -- poshli prakhom. Khorosho eshche, chto u menya byl telefon Khyujbrekhtsa (k kotoromu ya ezdil) -- a to on zhdal by menya na vokzale 2 chasa i byl by ne rad. Na sleduyushchij den' ya poshel iz otelya v universitet, ne posmotrev predvaritel'no na kartu, i vmesto 15 minut shel tuda poltora chasa. Po doroge videl krasivye prudy s lebedyami, i sovershenno promok, potomu chto byl dozhd'. Poslednij idiotizm zhe sluchilsya kogda ya poekhal k Mishke v Bonn, i na obratnoj doroge soshel na ostanovku ran'she, v rezul'tate chego dobiralsya do otelya chas s lishnim (sobstvenno, pro ehto ya uzhe pisal). V ehtot raz pogoda byla khoroshaya, i voobshche vse bylo khorosho -- dazhe ne bylo storozhevykh sobak. Pri ehtom sobstvenno v Kel'ne (v centre goroda) zabludit'sya prosto nel'zya. Vo-pervykh, tam karty na kazhdom uglu, a vo-vtorykh, tam est' sobor. On otovsyudu viden, i krome togo u nego dva shpilya, kotorye sozdayut orientaciyu -- mozhno opredelit' ne tol'ko dorogu k soboru, no i storony sveta. Tol'ko poehtomu, podozrevayu, ne opozdal na obratnyj poezd.
Sam Kel'n, pomimo sobora i eshche nekotorogo kolichestva cerkvej, nikakikh arkhitekturnykh izlishestv ne soderzhit, potomu chto vojna. Tam, pravda, vezde est' krepostnye vorota (shtuk desyat', navernoe). No podozrevayu, chto ne nastoyashchie. Odnako ehto nichego -- zato gorod pokhozh na gorod. I zaodno na fil'my Fasbindera. Ya, naprimer, el shaurmu v nastoyashchej tureckoj zabegalovke v podvale, sovershenno kak v fil'me pro "Strakh pozhiraet serdca". Celykh dva raza el, potomu chto ona byla okolo otelya. Prichem vtoroj raz -- chto menya osobenno voskhitilo -- bylo uzhe 12 nochi, no zakryvat' zavedenie nikto i ne dumal -- naoborot tam sidelo polno turkov, pili kakie-to tureckij napitki i mezhdu soboj razgovarivali po-turecki.
Otel', kstati -- ehto gromko skazano: na samom dele ehto byla odna ochen' bol'shaya kvartira, kotoruyu peredelali v pansion: odna polovina khozyajskaya, v drugoj -- shtuk pyat' gostevykh komnat. V komnatakh potolki tri metra. V Parizhe takogo prosto net.
Lyudi na ulicakh (to est' nemcy) tozhe sovershenno kak u Fasbindera. Oni v srednem odety v chernuyu kozhu, i ne tol'ko muzhskie nemcy (kotorykh u Fasbindera polno), no i devushki (kotorykh u nego malo). Ne to, chtoby oni vse tam byli bezumno krasivye, no vse -- zhivye. Nastoyashchie, to est' (v otlichie ot Parizha, gde vse na vid kakie-to zabitye i umuchennye). Vprochem, mozhet byt' mne prosto nadoel Parizh. Eshche v Kel'ne pochti net negrov, i bol'shinstvo grazhdan svetlovolosye i nordicheskie (t.e. ponyatno v teorii, chto tak dolzhno byt', no smeshno, chto ono i vzpravdu tak).
Ulica na kotoroj ya zhil, dovol'no bol'shaya, nazyvalas' ulica Rikharda Vagnera, i vse ulicy po sosedstvu byli takie zhe -- ulica Bruknera, ulica Malera i t.d. Kogda ya rasskazal pro ehto Mishke, on skazal, chto on naoborot zhivet na Mol'tkeshtrasse. Potom ya vernulsya v Kel'n, posmotrel vnimatel'no po storonam -- i sosednyaya so mnoj ulica tozhe okazalas' ulicej Mol'tke.
Zabavno eshche, chto ves' _centr_ Kel'na (v otlichie ot okrain) splosh' zanyat modnymi magazinami. My tam s Mishkoj khodili, vecherom -- krugom sploshnye vitriny osveshchennye, i v nikh tonnami sovershenno udivitel'nye manekeny. V Parizhe manekeny kakie-to vse bol'she uslovnye, zdes' -- ni figa: iz nikh delayut celye zhanrovye kompozicii, u nikh u vsekh kakie-to navorochennye pricheski, i t.d. A kogda ya byl v Bonne, Mishka mne pokazal togo Deda-Moroza, pro kotorogo on pisal v gestbuk. On _dejstvitel'no_ diko strashnyj. Tam imeetsya nechto vrode lestnichnogo kolodca (pravda, ne temnogo, i ochen' shirokogo) -- i ehtot pdolyj maneken stoit, opirayas' na perila, na samom verkhu, i smotrit na vsekh, kto idet po lestnice. A vnizu, nad vkhodom v pod'ezd, nedavno povesili _eshche odnogo_ -- visit, kak khishchnaya rys', i kazhetsya, chto sejchas prygnet. I vdobavok u nego protivoestestvennym obrazom vyvernuta noga.
Prichem Mishka ne edinstvennyj, kto postradal ot Deda-Moroza. Dan Khyujbrekhts rasskazyval, chto ego syn -- kotoryj voobshche-to khodit vo franko-nemeckuyu shkolu -- teper' kategoricheski otkazyvaetsya v nee khodit': na dnyakh byl prazdnik svyatogo Nikolausa, po ehtomu povodu v shkolu prikhodil Ded-Moroz. On govoril po-francuzski i po-nemecki, i vsekh detej strashno perepugal.
Eshche my s Mishkoj prokhodili mimo kakoj-to khudozhestvennoj galerei, u kotoroj na vkhode byl pryamo na stene narisovan uorkholovskij banan. Mishku ehto diko obradovalo. Vot, govorit, kak ehto pravil'no -- u bulochnika nad dver'yu visit zhestyanoj krendel', u art-galerei -- na stene narisovan uorkhollovskij banan. No potom ya vyyasnil, chto takie banany voobshche-to narisovany na stenakh po vsemu gorodu. Tak i ne znayu, zachem.
...Vot, takie dela. A v Parizhe so mnoj kak raz nichego osobenno interesnogo ne proiskhodit. Amerika menya staraetsya razvlekat' po mere sil khudozhestvennoj programmoj -- naprimer, my khodili v muzej Majolya na vystavku Ehrika Bulatova. Zabavno, chto sam muzej prinadlezhit Dina Vierny Foundation. Ob'yasnyaetsya, chto ona zhila s Maojlem let desyat' v tridcatykh godakh, kogda emu bylo 70 let, a ej let 15. Potom on pomer, ostaviv ej svoi milliardy, a ona iz blagodarnosti otkryla ego muzej. Tam, pomimo vystavki Bulatova, byli eshche kakie-to zabavnye russkie kartiny nachala veka, i ochen' mnogo portretov Diny Verni v golom vide, sdelannye Majolem, Matissom i eshche kuchej raznykh lyudej. Ehto potomu, chto ona v molodosti byla naturshchicej: ee vse risovali, a potom ej darili portret.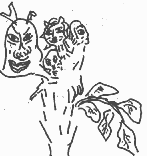 Eshche Amerika menya vodila na vystavku pod nazvaniem chego-to vrode "Fovizm: vzryv moderna v Evrope v 1905m godu". No ehta vystavka byla bol'shaya i skuchnaya. T.e. khoroshie kartinki, navernoe, no sejchas tak kazhdyj rebenok mozhet narisovat'. Mestami tam na polu sideli deti, i imenno ehtim i zanimalis'.