Podzemnye zhiteli
No number of references to deliberately obscure precedents might save those who reneged on their sacred deals. Conversely, if you've overdone the ritual, you are in danger of having your soul be taken over by your deity. Such are the dangers of magickal worship.

Stikhi kak magicheskie formuly -- edinstvennaya i odna forma poehzii.

Magicheskoe prochtenie fol'klora. Fol'klornye predki v svoikh povaplennykh grobakh, kak v palekhskikh shkatulkakh. Net nichego, krome menya i tebya -- no i nas tozhe net. Palekhovskie groby, povaplennye shkatulki, i sukhaya pyl'naya pustota na krayu zemli.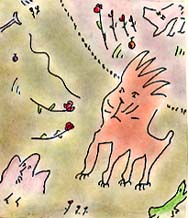 ... Veter v pole manit svobodoj,
pyl' osedaet na botinkakh
Ne poverish' -- ya lyublyu vas
Do toshnoty, do topotan'ya nogami
I vernut'sya by, vrode i vernulsya
ehkh sladko blagoe vremya
No tut take delo rebyata --
byt' nam novobrancami petli ili
priklada...
                                                      -- Manager
---

Misha Verbitsky.